By Ken Perrotte
Staff writer
Published: Military Times (Army Times), Mar. 29, 2014 – 06:00AM
Filed Under:OFFduty:Sports & Outdoors
Retired Army Chief Warrant Officer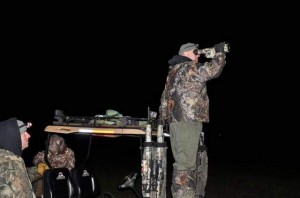 r Chris Monhoff scans a southern Georgia peanut field for feral hogs. (Ken Perrotte)
Thick Georgia mud, courtesy of heavy rains earlier in the day, squishes and slurps against our boots as we move single-file through the night.
Retired Army 1st Sgt. Clinton Housel is on point, scanning the field ahead with a thermal spotting scope. He raises his hand, stopping the formation.
"Turn on your scopes," he orders with a whisper.
He passes the spotting scope to retired Army Chief Warrant Officer Chris Monhoff, who pans the expansive, scrubby peanut field ahead.
"This group has mature sentry hogs on both sides of the sounder with the piglets. We've got to kill those sentry hogs," Monhoff explains. "The guys on the perimeter need to take out the left and right sentries."
A steady northwest wind in our faces protects us against the sophisticated porcine snouts 150 yards downrange, and it mitigates any slips in terms of masking subtle noises that would alert the crop-rampaging porkers to our presence.
After infiltrating another 50 yards, Monhoff quietly says, "Spread out."
Our small squad shifts from single file to shoulder-to-shoulder. We position adjustable tripod shooting rests that we had carried like guidons on our stalk toward the hogs.
As rehearsed, we simultaneously ready our thermal scopes and make sure our hearing protection range muffs are on and working. Our Remington R-25 rifles chambered in .308 Winchester are loaded with potent 165-grain Hornady GMX cartridges.
I'm on the far left and have a lone sentry as my initial assignment. When I hit the scope's magnifier, the thick hair along the razorback's neck and spine stands out, even though the pig is about 100 meters distant.
"Ready," everyone advises as we press our eyes into the scopes' rubber cups and center crosshairs on our targets.
"Safeties off. On my count. Three, two, one …" Monhoff whispers.
At zero, the night silence erupts with gunfire and squealing hogs.
I miss. My pig turns at the last count, offering a straight-on shot at its rear, something I'm conditioned to pass up after decades of deer hunting. My pig runs toward the group but quickly reverses course, high-tailing it — literally — for a distant tree line. The next two shots plow mud behind the running hog, but after lengthening the lead to about two to three feet, my third round thumps into the boiler room. The pig tumbles to a halt.
When it's all over and firearm safeties are re-engaged, a scan of the field shows seven dead hogs; not as many as might have been collected had the group been more tightly bunched, but altogether a good shoot. Five of seven adult hogs are dead, including all of the sentries.
A similar stalk later yields three more hogs.
By 3 a.m., the cart behind the UTV groans under the weight of more than a half ton of feral hogs.
"A Jager Pro double-digit hog-hunting experience — that's what we offer," Monhoff says, later explaining his belief that the hog control company offers the best hog hunting in the country.
No argument here.
Military pedigree
For decades, feral hogs have plagued Georgia, which has one of the largest populations of wild pigs in America.
Monhoff says Jager Pro Hog Control Systems hunters average about 100 two-night hunts a year, although 2014 has the company booked for 132 excursions. Last year, they killed around 3,500 hogs.
The company launched in 2006, when its founder and CEO, retired Master Sgt. Rod Pinkston, saw an opportunity to apply military tactics and thermal optics know-how to the issue of marauding wild pigs.
Pinkston retired from the Army Marksmanship Unit's Olympic shooting team at Fort Benning, Ga., after his soldiers won two gold medals at the 2008 Olympic Games in China. The 2008 Games were the first time U.S. shooters earned four shotgun medals in the history of Olympic shooting.
During his two tours in Germany, Pinkston earned that nation's "Jagdschein" (certified hunter) designation. He relished hunting European boars in Germany, Poland and the Czech Republic.
Pinkston and Monhoff, the company's director of shooting operations, met in 2009.
Monhoff, a Columbus, Ga., native, was born at Benning. He retired in 2009 after 22 years of service, including a cumulative 44 months of deployments in support of three Iraq missions. As an artillery targeting officer, he made strategic decisions relative to thermal ground reconnaissance and air-to-surface strikes on enemy targets.
During his military career, he became an avid hog hunter, popping pigs in the ample swamps and backwoods of forts Stewart and Benning.
Another soldier recruited for the Jager Pro team is former Olympic shooter, U.S. National Champion and Sgt. 1st Class Lance Dement, who directs the company's hog trapping operations.
Housel, who served in the 1st Ranger Battalion, 4th Ranger Training Battalion and 82nd Airborne Division, among other units, began hunting when he was 7. He currently holds the company record for hogs killed in one night — 24 taken by two shooters.
Hunting and trapping
Pinkston, a member of the National Wildlife Control Operators Association, also is the inventor of the MINE (Manually Initiated Nuisance Elimination) Trapping System.
Trapping is generally more successful than shooting in terms of taking out entire sounders, as herds of wild pigs are known. Traps are monitored with video gear.
Ideally, all members of the herd become comfortable coming to the enclosure for food. When Jager Pro operators are sure all hogs are in, the trap door slams shut. Dement has used the unique trap to successfully corral 33 hogs at one time.
Sometimes, exceptionally cautious old hogs refuse to enter the enclosure. In these cases, a trap operator and shooter stake out the trap. When the entire herd is accounted for, including those pigs refusing to enter the trap, the shooter takes out the trap-wary hogs with a rifle while the others are simultaneously trapped.
Hunting and trapping are complementary operations.
"We provide the gear and expertise, the guest hunters get a tactical hog-hunting experience, and the farmers get free hog-control services. It's a great business model," Monhoff noted — even though ultimate success means you could put yourself out of business.
Hunts are conducted much like military operations, designed to facilitate safety as much as success.
"You've got guys you've never hunted with before using unfamiliar equipment at night. Things can go wrong. Our procedures are designed to minimize any chances of that," Monhoff said.
Winter — before fields are planted and most leftover mast crops (natural foods such as acorns, etc.) or other foods are scarce — is an excellent time for hunting and trapping. During planting season, hogs can wipe out huge sections of freshly planted peanut or cornfields, snuffling their way along rows at night and eating all of the seeds before they can germinate, Monhoff explained.
Winter, spring and fall, soon after cornfields are cut and mature peanut fields are standing, are all good times to hunt hogs, he added. Summertime, when corn stands 8 feet tall and night is sweltering hot, isn't a good time for trapping or hunting.
"It really comes down to what time of year people want to hunt, and what conditions they want to hunt in," Monhoff said.
The retired soldiers and their shooter clients are denting the hog population across the seven counties and nearly 250,000 acres they patrol.
Just about every field held some hogs at night several years ago, but these days, it can take a few hours of cruising and scanning with the thermal scope to locate groups of feeding hogs.
The guides invest incredible hours during the hunting season, including scouting, gear maintenance and preparation, and about eight hours a night of hunting. Working 36 hours out of a 48-hour period isn't unusual, Monhoff said.
"We work hard to give our hunting groups the opportunity to kill 10 or more hogs a night," he said. "Of course, all we can deliver is the opportunity. We can't shoot for you. Some hunters don't shoot that well, especially when they're using unfamiliar equipment.
"We find the hunters handle the gear a lot more proficiently on the second night of a two-day hunt," he added.
Ken Perrotte is a Military Times outdoors writer.